Prowein 2019, Tenute Rubino, full sail towards
The Brindisi-based winery flies to Düsseldorf to celebrate its first twenty vintages and a great performance in Germany and other Northern European markets. All the latest vintages, new eye-catching labels for the Crus and great scores received from Falstaff in its Primitivo Wine Trophy. Luigi Rubino: "Today's wine lovers seek identity but also a fresh and contemporary drinking experience".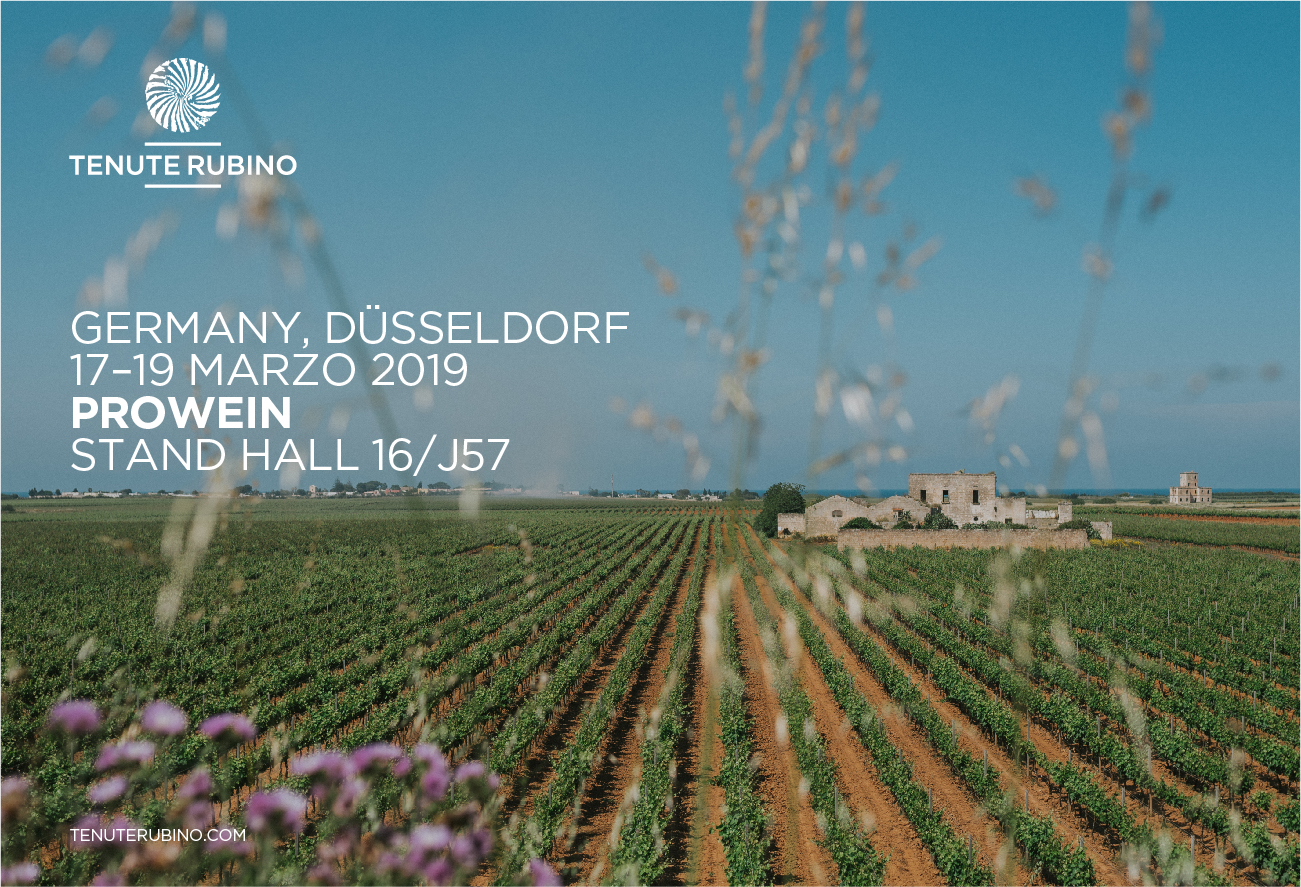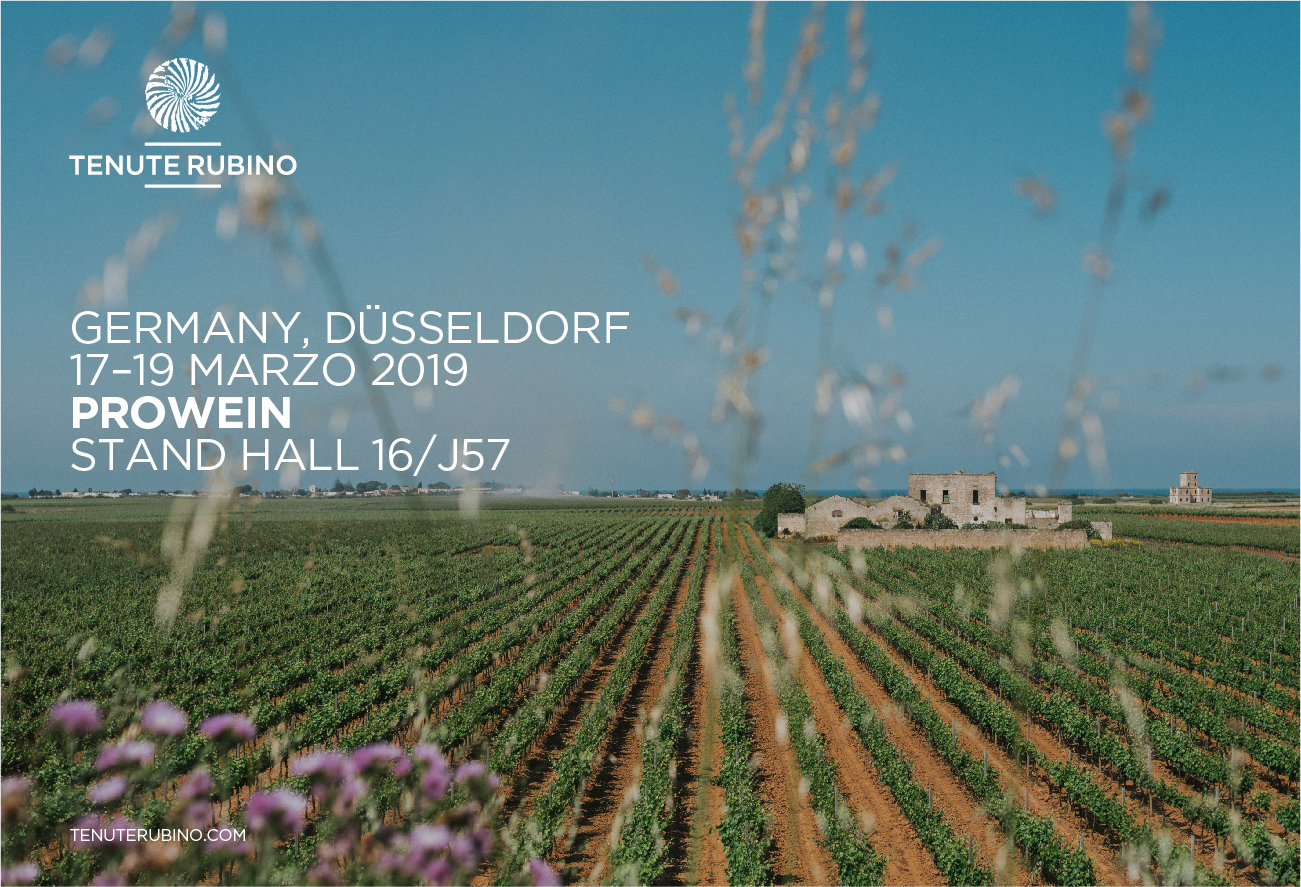 Brindisi – March 5th 2019. Prowein 2019, which will take place in March 17-19, marks the beginning of this year's calendar of international wine fairs. Tenute Rubino will travel to Dusseldorf to celebrate there its first twenty vintages with enthusiasm and great expectations.
Northern Europe, Germany and German-speaking countries in general have become important markets for Apulian labels and the demand for quality red and rosé wines is higher than ever. Maintaining a strong presence in areas where growth trends are constantly on the rise has played an essential part in the achievement of the excellent results obtained by Tenute Rubino with his most representative wines.
For this reason, Tenute Rubino looks to the opening of Prowein 2019 as one of the key events of the year. According to company founder Luigi Rubino, "Switzerland, Austria and Germany are countries where revenue has grown for five consecutive years. Today, wine lovers are interested in identity but they are also after a fresher and more contemporary drinking experience. Our traditional varieties can interpret this trend with wines that have immediacy but also structure and depth ". Varieties and denominations that Apulian wine makers have successfully introduced to an international audience, thanks to their strong and modern identity.
Once again this year, Tenute Rubino's participation at Prowein will kick off in style. Falstaff, the influential Food & Beverage magazine dedicated to Germany, Switzerland and Austria has included Tenute Rubino in its selection of wineries attending the Big Bottle Party, a preview reserved to German speaking professionals and consumers, to be held on Saturday, March 16 at the Stahlwer (Ronsdorfer Str. 134, D-40223 Düsseldorf), one of the city's most exclusive clubs. Starting at 4.30 pm with the Grand Tasting, an exclusive chance to sample the years' finest labels. Later, until 23.30, it will be party time and free drinking for all, thanks to the magnum bottles offered by the wineries showcased.
From Sunday March 17th, at the tasting tables (pavillion 16, stand J57), within the space reserved for stopper wines, Tenute Rubino will present all current vintages of a selection of its labels, ranging from its Apulian natives, such as Susumaniello, Primitivo, Negroamaro and Malvasia Bianca, to the heritage varieties chosen to become part of the project "Le Riscoperte". Dusseldorf will also mark the international debut of the new art created for the Cru wines of Tenute Rubino: Giancòla, Visellio, Jaddico, Torre Testa and Torre Testa Rosato. Each of these wines, the cornerstones of a production philosophy that combines passion for Puglia's traditional viticulture with a modern and forward-looking vision, will be represented by a particular shell on the new labels, inspired by the strong bonds between this land of wine and the sea. Literally handmade, thanks to the original artwork created exclusively for Tenute Rubino, the new labels reflect the same keen and patient attention to detail the company applies in its work in the vineyard and in the cellar, a quest for perfection we see not only in the bottle but in every manufacturing detail.
Prowein will also showcase the two labels which received excellent scores from Falstaff as part of the magazine's Primitivo Wine Trophy: Visellio 2016 and Punta Aquila 2016. The panel awarded 93 points to Visellio, describing it as an "intense and bright wine with hints of raspberries and ripe strawberries on the nose with light, spicy nuances. In the mouth it is compelling and substantial, with a persistent tannic structure. A wine with remarkable evolutionary potential ". Punta Aquila 2016, received 92 points, being described as "A wine of an intense and dark purple colour; on the nose it has hints of ripe berries, plums and cherries. Harmonious on the palate, the central part gives life to an intriguing game of fruit, with a round and juicy finish ".
Finally, on the last day Tenute Rubino will host a workshop entitled "Local varieties compete on the international market. The incredible case of Susumaniello, a native grape from Puglia ", the event will be led by wine journalist Giuseppe Lauria of the specialized magazine Weinwisser. The tasting, which will take place at 12.30 am inside the stand, will be a chance to sample the labels Torre Testa, Torre Testa Rosato, Oltremè and Sumarè 60 months.