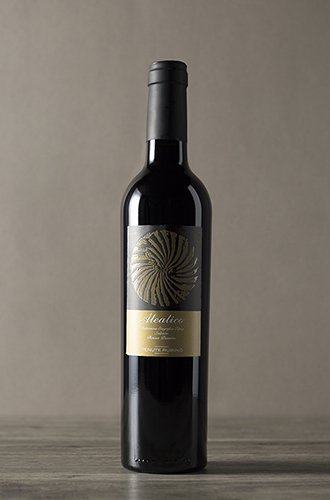 Aleatico
IGT Puglia
Aleatico
An incredible wine, deep and voluptuous, it reminds the earthy mineral fragrance of its land, winding, thin and perturbing, elegant and dense of incomparable nesse and personality, exquisite.
Estate characteristics
VINEYARDS LOCATION Uggìo, Brindisi
ALTITUDE OF VINEYARDS Sea level
SOIL CHARACTERISTICS Stoney, medium consistency
TRAINING SYSTEM Spurred cordon
VINES PER HECTARE 3.800
YEARPER IMPIANT 1998
YIELDS PER HECTARE 4 tons
HARVEST Manual, last decade of September
Vinification
FERMENTATION Between 22-24°C in steel tanks
MACERATION 3 days at controlled temperature
MALOLACTIC FERMENTATION Totally carried out
AGEING 6-7 months in steel tanks, 6 months in the bottle
ALCOHOL LEVEL 15,5%
ANALYSIS pH 3,10 · acidità totale 6,00 g/l
VINTAGES 2006, 2007, 2008, 2009, 2013
Tasting
COLOUR Bright ruby tending to violet.
BOUQUET Fine, delicate, aromatic and intense. It combines notes of raspberry and blueberry with fresh hints of nutmeg, rose and strawberry on an elegant violet background.
TASTE Almost "crunchy" fruit, incredibly pleasant, full and lively, it charms for being able to caress without tiring, gifted with a perfect equilibrium between important structure and gentle acidity.
FOOD MATCHES We suggest you to drink it on its own to fully enjoy its rich opulence. Perfect at the end of a meal, with strawberry and raspberry tart.
SERVING TEMPERATURE 10°C
GLASS Small tulip–shaped goblet