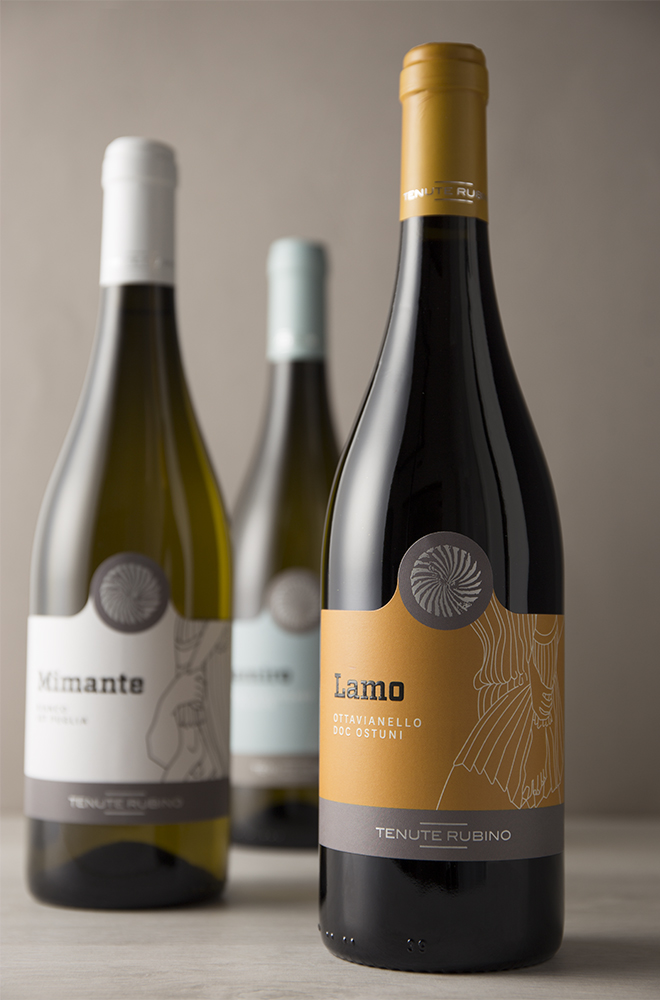 Lamo
DOC OSTUNI OTTAVIANELLO
Ottavianello
A wine unique in its kind, a rarity in the southern Italian vineyards. It is appreciated for its light structure and for the gentle but firm character.
Estate characteristics
VINEYARDS LOCATION Comune di Ostuni
ALTITUDE OF VINEYARDS Between 218 e 380 meters above sea level
SOIL CHARACTERISTICS Clayey, medium consistency
TRAINING SYSTEM Spurred cordon
VINES PER HECTARE 5.000
YEARPER IMPIANT 1994
YIELDS PER HECTARE 8 tons
HARVEST Last of decade of September
Vinification
FERMENTATION Between 22-24°C in steel tanks
MACERATION 7 days at controlled temperature
MALOLACTIC FERMENTATION Completely carried out
AGEING 5-6 months in steel tanks, 1-2 months in bottle
ALCOHOL LEVEL 13% vol.
ANALYSIS pH 3,65 · acidità totale 5,50 g/l
VINTAGES 2015, 2016, 2017, 2018
Tasting
COLOUR Medium intensity ruby red, with purple hints.
BOUQUET Floral aromas, alternated with light herbal and spicy ones. Its particular bouquet is completed by fruity notes, like pomegranate and black cherries.
TASTE Delicate and classy. Tannins and alcohol stay on the background, impeccably blended with the rest of the organoleptic characteristics.
FOOD MATCHES Excellent with starters and main dishes of medium structure. Through its delicate texture it accompanies orecchiette with meat sauce, meatballs and mixed roasted meat in a discreet and harmonious way, without ever covering the flavours of the food.
SERVING TEMPERATURE 16-18 °C
GLASS Medium size goblet