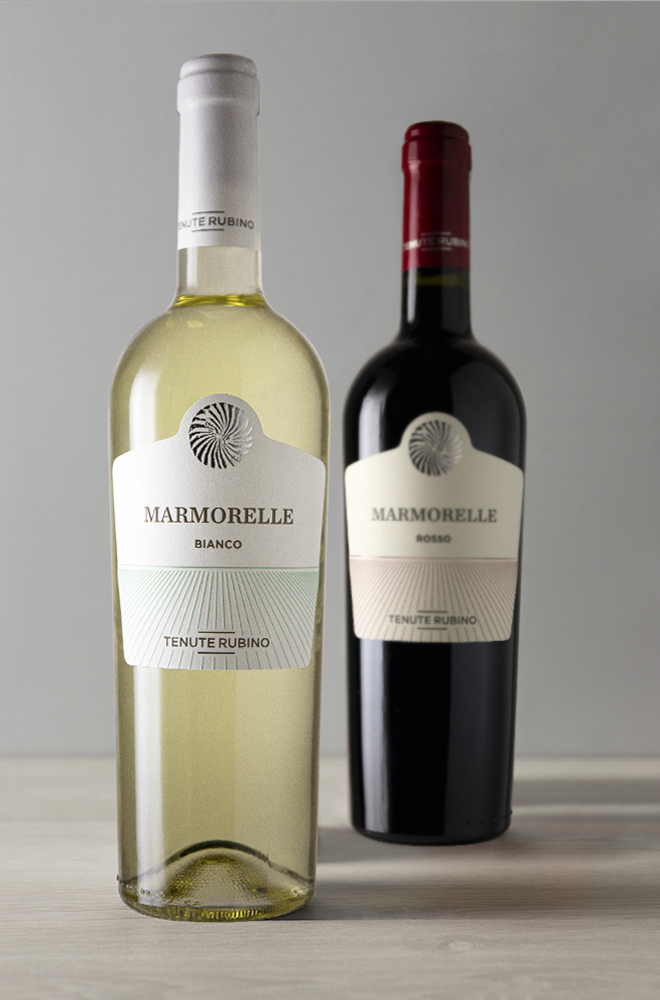 Marmorelle Bianco
IGT SALENTO
Chardonnay, Malvasia bianca
The Chardonnay supplies body, the white Malvasia the right amount of aroma. Together they create a balanced wine, with fresh acidity that makes it particularly pleasant.
Estate characteristics
VINEYARDS LOCATION Marmorelle, Brindisi
ALTITUDE OF VINEYARDS Sea level
SOIL CHARACTERISTICS Clayey, medium consistency
TRAINING SYSTEM Spurred cordon
VINES PER HECTARE 3.800
YEARPER IMPIANT 1998
YIELDS PER HECTARE 8 tons
HARVEST Manual; Chardonnay, from the 10th to the 15th August, Malvasia bianca in the middle of September
Vinification
FERMENTATION Between 16-18°C in steel tanks
MALOLACTIC FERMENTATION Not carried out
AGEING 6 months in steel tanks, 2-3 months in the bottle
ALCOHOL LEVEL 13% vol.
ANALYSIS pH 3,35 · total acidity 5,50 g/l
VINTAGES 2000, 2001, 2002, 2003, 2004, 2005, 2006, 2007, 2008, 2009, 2010, 2011, 2012, 2013, 2014, 2015, 2016, 2017, 2018
Tasting
COLOUR Light straw yellow, with delicate green nuance.
BOUQUET Delicate and wrapping scents of fruit and flowers, notes of mango, banana, yellow peach, grapefruit, orange blossoms and broom.
TASTE Smooth, well-balanced and persistent. Sapid and mineral, its fresh acidity makes it pleasant and lively.
FOOD MATCHES Ideal with warm sea salad, boiled shrimps, the classic potato rice and mussels from Bari or baked sea bass. Also worth trying with white meat.
SERVING TEMPERATURE 8-10°C
GLASS Medium size tulip-shaped goblets