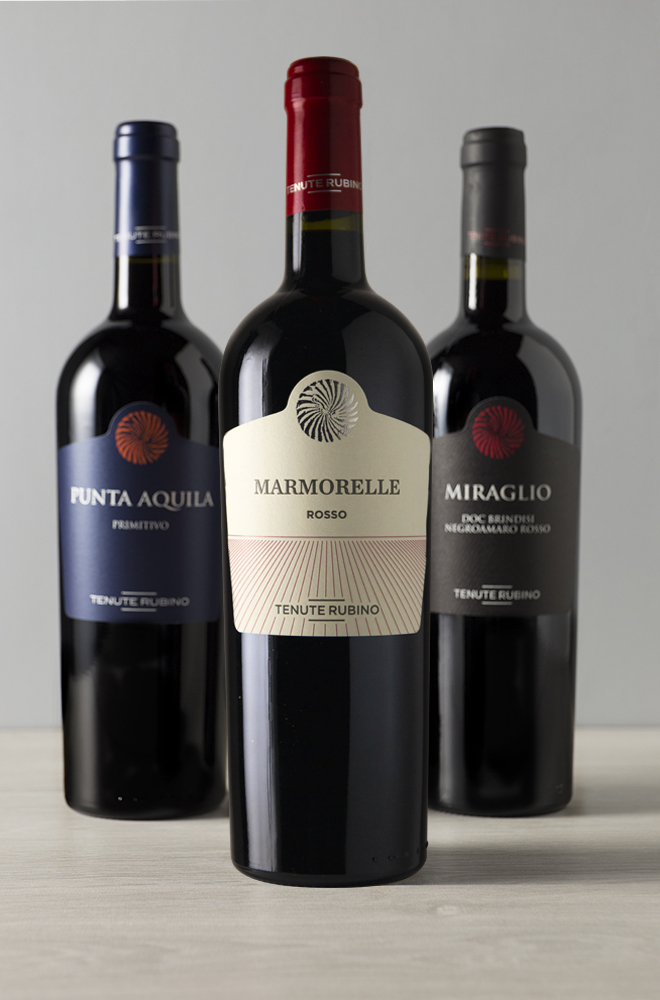 Marmorelle Rosso
IGT SALENTO
Negroamaro, Malvasia nera
One of the most typical blends of Salentinian oenology. A light touch of black Malvasia and short wood ageing add extra complexity.
da trad CARATTERISTICHE TENUTA
VINEYARDS LOCATION Marmorelle, Brindisi
ALTITUDEOF VINEYARDS Sea level
SOIL CHARACTERISTICS Clayey, medium consistency
TRAINING SYSTEM Spurred cordon
VINES PER HECTARE 3.800
YEARPER IMPIANT 1998
YIELDS PER HECTARE 8 tons
HARVEST Manual, third decade of September
Vinification
FERMENTATION Between 22-24°C in steel tanks
MACERATION 8-10 days
MALOLACTIC FERMENTATION Totally carried out
AGEING 12-18 months in steel tanks and 40hl French wood tanks; 3 months in the bottle
ALCOHOL LEVEL 13,5% vol.
ANALYSIS pH 3,60 · total acidity 6,20 g/l
VINTAGES 2000, 2001, 2002, 2003, 2004, 2005, 2006, 2007, 2008, 2009, 2010, 2011, 2012, 2013, 2014, 2015, 2016, 2017
PRODUCTION VINTAGE 240.000 bottles
Tasting
COLOUR Intense and bright ruby.
BOUQUET A wide and variegated array, with ethereal and fine notes of cherry, blackcurrants, blueberries and blackberries, hints of nutmeg and cocoa.
TASTE Warm and pleasant with a great correspondence between taste and nose. The fruit well-amalgamates with the tannins and its fine acidity.
FOOD MATCHES To be served with "tagliatelle alla bolognese", saltimbocca alla romana, stuffed aubergines, fried meatballs with tomato sauce, roasted lamb with potatoes, shortly seasoned cheeses.
SERVING TEMPERATURE 16-18 °C
GLASS Medium size goblet