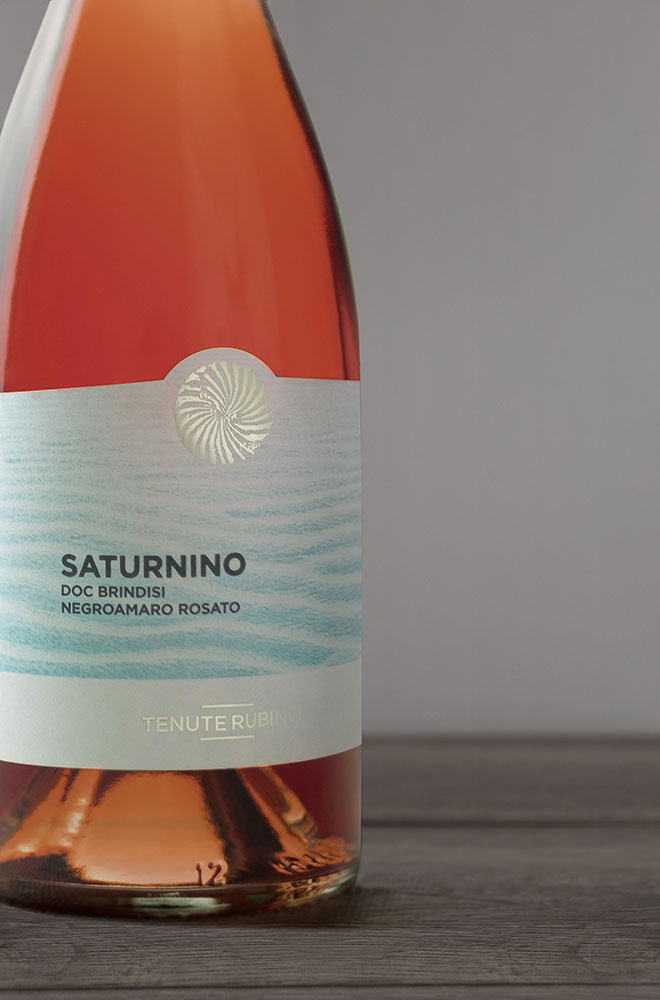 Saturnino
DOC BRINDISI
Negroamaro
Saturnino, single variety Negroamaro rosé, is a marine and mineral wine. It admirably combines intense fruity flavours with a remarkable freshness.
Estate characteristics
VINEYARDS LOCATION Jaddico-Giancòla, Brindisi
ALTITUDE OF VINEYARDS Sea level
SOIL CHARACTERISTICS Sandy
TRAINING SYSTEM Spurred cordon
VINES PER HECTARE 3.800
YEARPER IMPIANT 1996
YIELDS PER HECTARE 8,5 tons
HARVEST Manual, third decade of September
Vinification
FERMENTATION Between 16-18°C in steel tanks
MALOLACTIC FERMENTATION Not carried out
AGEING 5 months in steel tanks; 2 months in the bottle
ALCOHOL LEVEL 13% vol.
ANALYSIS pH 3,40 · total acidity 5,80 g/l
VINTAGES 2004, 2005, 2006, 2007, 2008, 2009, 2010, 2011, 2012, 2013, 2014, 2015, 2016, 2017, 2018, 2019
Tasting
COLOUR Clear, intense and brilliant pink.
BOUQUET Fragrant and fresh notes of violets, cherry and rose meet scents of pomegranate, raspberry and strawberry.
TASTE Sapid, marine, mineral and round characteristics combine perfectly with a mouth-filling flavour.
FOOD MATCHES Versatile and enticing, it prefers tasty dishes such as stuffed aubergines, spaghetti with seaurchins, seafood lasagne, risotto with porcini mushrooms. Very nice with focaccia from Puglia.
SERVING TEMPERATURE 8-10 °C
GLASS Medium size goblets