Giancòla, Puglia's wonder-white
Giancòla is a white wine from Salento, one of Tenute Rubino's top-quality labels. A wine that combines sensorial intensity with a distinctive elegance and a surprising longevity. Those who have the chance to savour the earliest vintages – preserved in the knowledge that time can only enhance its texture and aromatic profile –experience a pleasure that seems almost paradoxical, as Puglia is best known mainly for its red wines to lay down.  So yes, what we are dealing with is a maverick, an unusual an exciting white.
Giancòla is the product of the coastal viticulture practiced in the estate of Jaddico, an area north of Brindisi where sandy soils and constant ventilation exert their powerful influence ongrape-growth. It is obtained from white Malvasia grown in a primary vineyard planted in '96, and in two more recent vineyards planted in 2015 and 2016, it is widely regarded as one of Puglia's most interesting and identifying white wines. Structure, aromatic charge and elegance, a perfect balance between nose and palate, plus, an unmistakable sapidity which comes from the constant sea breeze which blows through the vines in Jaddico, especially in the winter months. White Malvasia grapes typically ripen within the first ten days of September and are harvested by hand for an extremely limited production, the intensity of the wine's aromas characterised by hints of broom and iris gives way to notes of yellow peach and cantaloupe. A wine with a distinctive personality, obtained through zero contact with wood: it ages in steel for a minimum of eight or nine months – depending on the vintage – and is then allowed to age in bottle for no less than six months.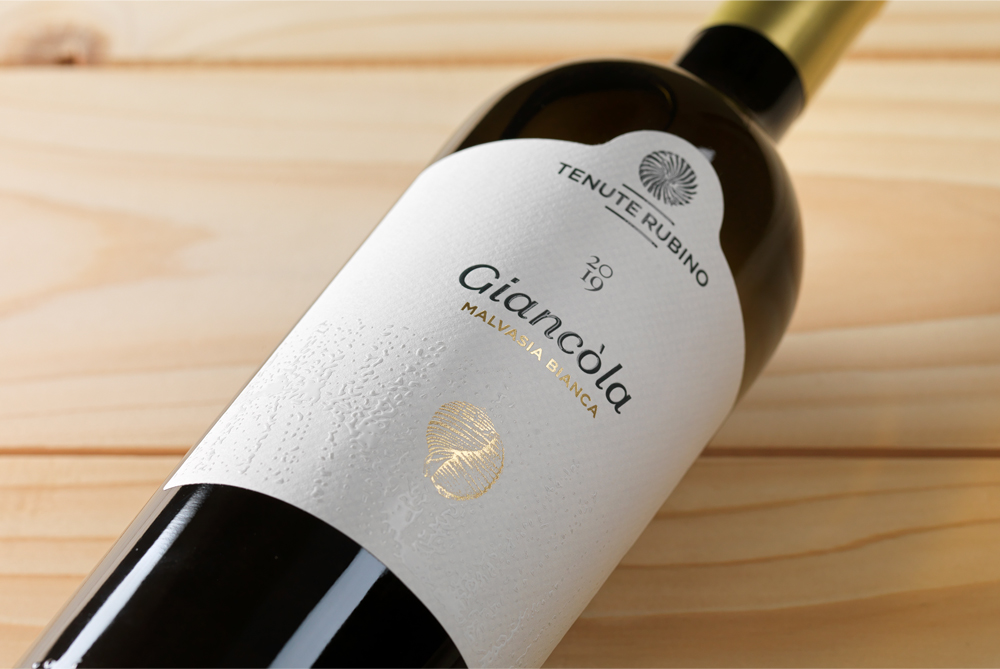 The origins of the name
The name Giancòla is an homage to the ancient owner of a farmhouse built here in the sixteenth century, on the grounds which are now home to one of the vineyards dedicated to Malvasia Bianca on the Jaddico estate. His full name was Giovanni Nicola Villanova and the moniker 'Giancòla' derives from a combination of his two Christian names. Giancòla is also the name of the ancient canal that runs through the estate dividing the area in two.
Malvasia Bianca
Malvasia is an ancient name, the origins of which are connected to a Byzantine stronghold called Monembasia in Greece, in the Peloponnese region. There are at least 19 white-skinned grape varieties registered in Europe under this name but its true soul, however, is unmistakably Mediterranean. Puglia has become an important centre for the production of Malvasia and it is here that we find the highest number of hectares destined to the cultivation of white-skinned Malvasia today. In the Jaddico estate, three vineyards are dedicated to Malvasia Bianca, grown using different training systems: spurred cordon and guyot.
For the vinification of Giancòla, the grapes are selected on the vine and harvested by hand. Malvasia Bianca vines are appreciated for their large, pentagonal leaves, perfect for protecting the fruit from the summer heat and for theirmedium-sized, very compact bunches. The grapes tend to be small and round with green-yellow skins of medium thickness.
The 2019  harvest
Compared to the previous years, the veraison phase started late in 2019 – as a consequence, harvest operations in the estate of Jaddico began later than usual, with a 12 to 15 day delay for each variety. This year's summer temperature averages, however, have been excellent and the same can be said for the diurnal temperature variations which are crucial for the grapes' polyphenolic accumulation and the development of aromatic precursors. The Malvasia grapes, harvested from September 10th onwards, were in excellent sanitary condition, with perfectly intact clusters, a good pulp-to-skin ratio and a perfect balance between sugar and acid component: all factors that, from the outset, have lead us to expect a very important vintage.
Food Pairings
A great wine to enjoy all year round thanks to its fine textured aromatic body and alcohol content of 13.5 vol. Its aromatic charge and weight of structure deserves to be savoured with flavourful and substantial dishes. A great white such as Giancòla is perfect with rich meat and fish dishes such as roasts, but also with tempura-style preparations. Excellent enjoyed with tuna, both cooked and raw, or a tasty bowl of mussels and clams.
Serving temperature: 8-10 °C
Best wine glass for serving: medium-sized, with a large bowl.