A graphic restyling of a label in dialogue with Art
Innovative, atypical and strong in visual impact. The new art for the Torre Testa label – created by studio Atelier 790 – expresses charm and immediacy.
With the 2017 vintage, Tenute Rubino's iconic wine has changed its skin, donning a totally renewed label design and packaging. The graphic restyling of an important label such as Torre Testa was a labour of love for the company and the creative team in charge of its realisation. The main goal was to fully express the uniqueness of this wine – the vertex of Tenute Rubino's qualitative pyramid – and to engage a growing market of demanding and mature consumers.
Today, with our new and exciting design Torre Testa has revolutionised its image embracing a path of stylistic rigour, immediacy and innovation, a break from the traditional formalism of the world of wine communication. For this Apulian virtuoso a new exploration journey begins, among fans and wine connoisseurs, to communicate more effectively the identity and energy of this very important wine.
As we all express our identity and values through our behaviour and attitude towards others, a wine label too, with its own visual language, communicates its essence and nature. The new Torre Testa label expresses "personality", a term that goes well with the temperament of this wine: strong, unique and recognizable. The new design speaks of craftsmanship and art: the highest expressions of human passion.
"It has been a complex, long and at times uncertain journey. We had never undertaken such a complete restyling of one of our labels. These are choices that need time to take shape. We wanted a talking label, in dialogue with today's world by way of new and different modes and tones. Today – says Romina Leopardi, Tenute Rubino's head of marketing and communication who has led the creative process – our new label conveys artisanship practiced with style and passion.
The pictorial impact of the new label – she concludes  – and in particular, the dialogue between wine and the world of figurative art is clearly highlighted by the "brushstroke" of colour that brings to mind the hue of the Susumaniello grape skins and the "juicy and dense" stain they leave on the hands when picked. It is a tactile label, declined in one single chromatic palette, elegantly emblazoned with the wine's name, variety and vintage. A harmonious ensemble of elements – simple and effective – that we find on Torre Testa's service packaging as well."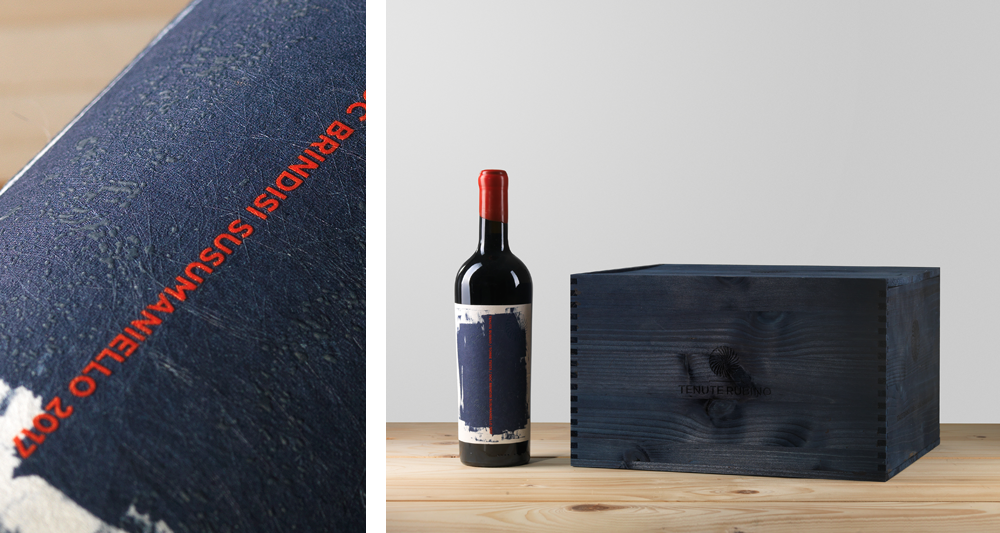 Torre Testa – DOC Brindisi – Susumaniello – the 2017 Vintage. Intense and caressing.
Our monovarietal Susumaniello cru Torre Testa Doc Brindisi 2017 is now available for purchase, with its new restyled label, a revolutionary new look for Tenute Rubino's most important wine.
Summary of the year's climate trends and tasting notes:
The abundant rainfall of the spring season guaranteed a more than adequate water supply to the fields and resulted in a harvest of rich and juicy fruit. With its intense, inky ruby red colour, Torre Testa 2017 captures the heart with notes of ripe red fruit such as plum and liqueur cherry. Hints of fruit preserve and dark chocolate give way to spicy notes of cinnamon, black pepper and nutmeg, with precious aromas of vanilla and liquorice. The summer winds blowing in from the Adriatic Sea have enriched the aromatic range of the wine with fresh and mineral notes. The palate is perfectly balanced with well-rounded and delicate tannins. The finish is leisurely and persistent, resulting in a complex, caressing and firm wine. Torre Testa has reached its peak with the 2017 vintage, the 94 points awarded by the prestigious wine magazine Falstaff and the Cinque Grappoli from Bibenda 2021 represent further recognitions of this wine's elegance, personality and ageability.