Tre Bicchieri by Gambero Rosso for Oltremé 2021 
Tenute Rubino celebrates a prestigious success, reaffirming its status of excellence in the Italian wine landscape: once again, the Oltremé Doc Brindisi has earned the highest recognition, receiving the Tre Bicchieri from the "Vini d'Italia" 2024 guide by Gambero Rosso.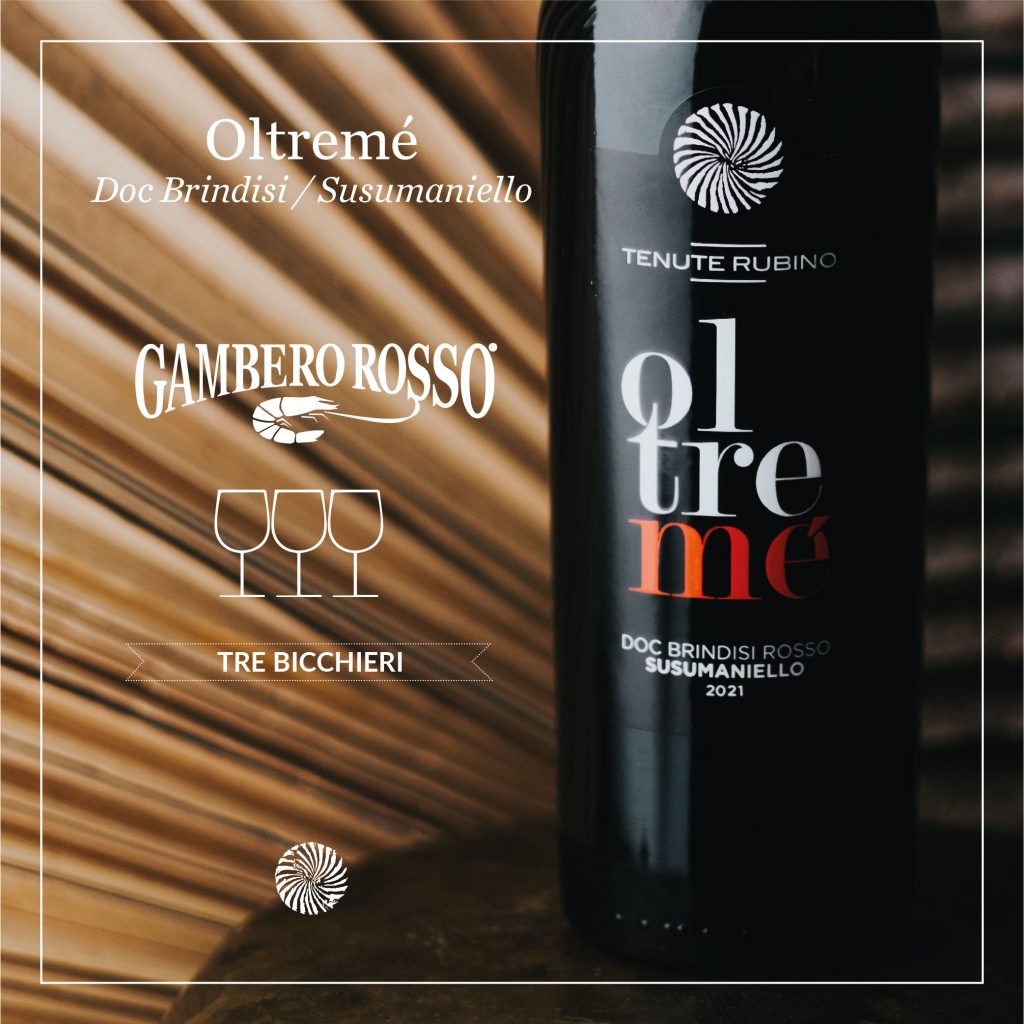 This achievement, obtained for the seventh time in its history, underscores the constant dedication and impeccable work of Tenute Rubino in crafting high-quality artisanal wines. Oltremé, a red wine of extraordinary personality and refined taste complexity, is one of the gems of the Susumaniello Project.
Since 1999, Tenute Rubino has conducted a complex study and analysis of the peculiarities of the Brindisi area, aimed at exploring the production potential of certain grape varieties that had remained in the shadows until then. Among these, Susumaniello, typically cultivated alongside Negroamaro and Malvasia Nera vines, has shown remarkable resilience and adaptability, prompting the Rubino family to make substantial investments, resulting in its definitive "Renaissance" today.
A grape variety known in the past for its richness in coloring matter and tannic qualities, but which in Jaddico, along the Adriatic ridge has found its own specific dimension thanks to a production process built on the interaction between the grape variety and the terroir. This area is characterized by constant ventilation, sandy soils, and significant temperature fluctuations between day and night. For this interpretation of Susumaniello, a slightly early harvest is preferred to enhance the fruit's crispness and good initial acidity. This consistency is also maintained through exclusive use of steel for aging, all of which contribute to the distinct identity of Oltremé.
Celebrating the seventh Tre Bicchieri for Oltremé is an extraordinary milestone for the entire team at Tenute Rubino. This prestigious recognition reaffirms the value of our over two-decade-long work with native grape varieties from the Brindisi area, carried out in synergy with the company's agronomist, Piernicola Tondo, and the oenologist Luca Petrelli, particularly in the case of Susumaniello, whose resurgence has been guided by our family.
The Tre Bicchieri award from Gambero Rosso for Oltremé is the culmination of an over two-decade journey in Puglia, where the Rubino family has played a leading role in the recovery and promotion of Susumaniello. We chose to believe wholeheartedly in this native variety not only for its remarkable winemaking potential but also for its productive versatility, showcased best through its four distinct expressions in the bottle.