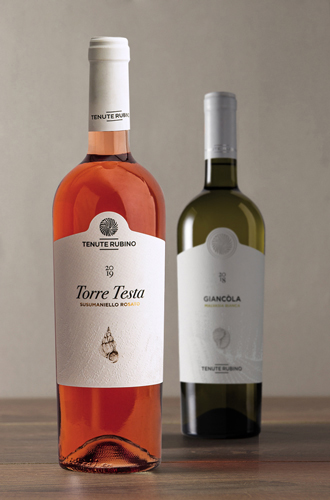 Torre Testa Rosato
Rosato
IGT SALENTO - BRINDISI
Susumaniello
Single variety Susumaniello rosé. Fresh, mineral and delicate. The characteristics of this variety gently come to life in this wine, due to the proximity  to the sea.
Estate characteristics
VINEYARDS LOCATION Jaddico-Giancòla, Brindisi
ALTITUDE OF VINEYARDS Sea level
SOIL CHARACTERISTICS Sandy
TRAINING SYSTEM Spurred cordon
VINES PER HECTARE 6.0000
YEARPER IMPIANT 2004
YIELDS PER HECTARE 6 tons
HARVEST Manual, second/third decade of September
Vinification
FERMENTATION Between 16-18°C in steel tanks
MALOLACTIC FERMENTATION Not carried out
AGEING Minimum 5 months in steel tanks, 1-2 months in the bottle
ALCOHOL LEVEL 13% vol.
ANALYSIS pH 3,35 · total acidity 5,90 g/l
VINTAGES 2014, 2015,2016, 2017, 2018
Tasting
COLOUR Light pink with soft violet shades.
BOUQUET Fresh and fruity scent with strawberry, pomegranate and cherry notes.
TASTE Fresh and elegant palate with well balanced acidity.
FOOD MATCHES Ideal with seafood aperitif, octopus, shrimps, squids, cold cuts and vegetable tempura. Perfect with risotto, linguine with prawns and tomatoes, fish omelette, tuna or salmon carpaccio, filled cuttlefish, red mullet, filled cuttlefish, light roasts.
SERVING TEMPERATURE 8-10 °C
GLASS Medium size goblets