The minimalist flavours of tradition
In Opera Food's new video recipe, Numero Primo's 'crostoni con Burrata' are paired with Oltremé, the innovative label made from Puglia's native Susamaniello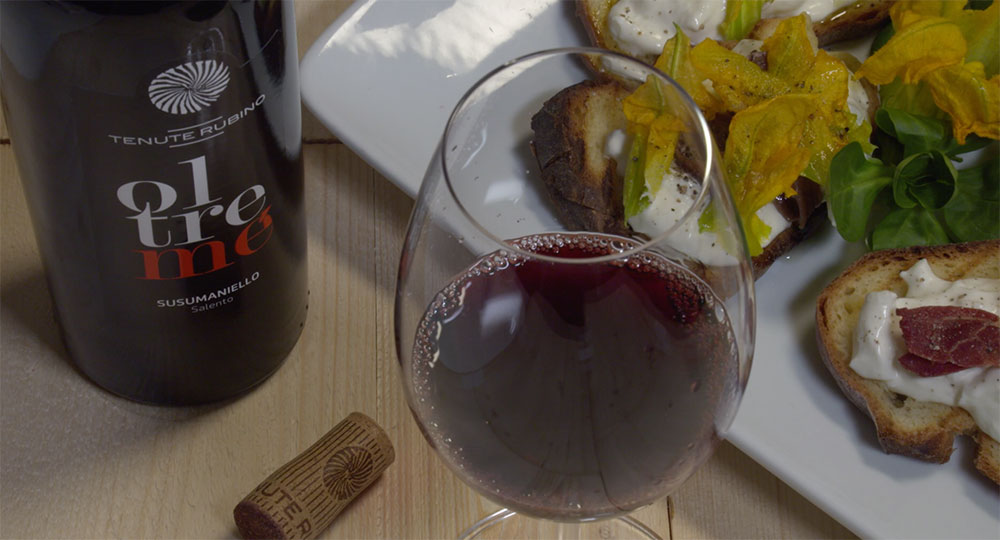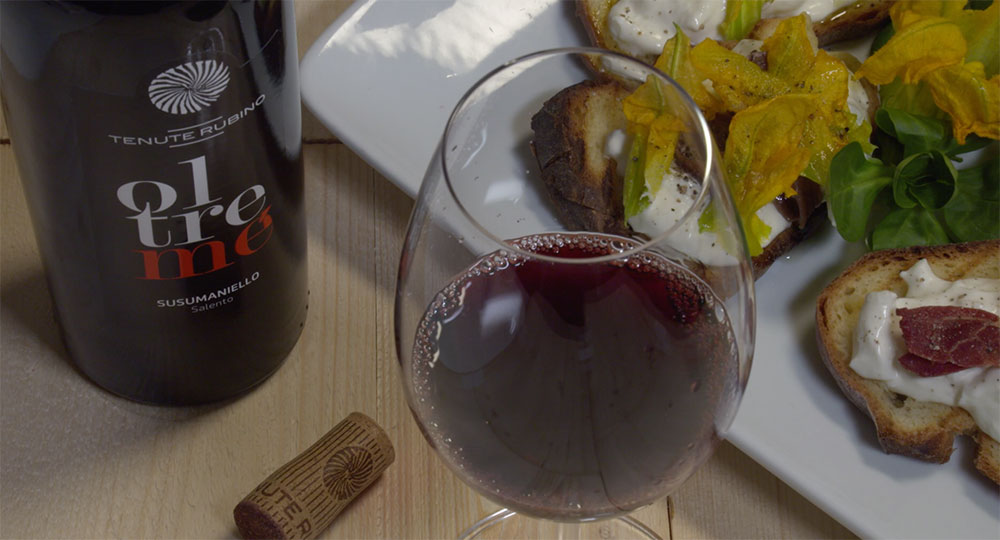 Is it possible to experience all the magic of Apulian cuisine in one simple (and easy to prepare even at home) dish? The answer is yes, especially if you happen to be in Brindisi, comfortably seated at one of Numero Primo's open air tables, enjoying the views of the enchanted seafront. Here, flipping through the menu we discover that the quality of all the ingredients, strictly Born in Puglia, is celebrated with absolute respect for seasonality and an avoidance of too much elaborate processing, faithful to the essential approach typical of the Apulian table. And if we complete the experience with a glass of wine obtained from the region's native grapes we will fully understand the essence of Puglia's traditional culinary minimalism.
To recreate this perfect encounter of flavours, all we need to do is let ourselves be captivated by the simple yet magical gestures needed to put together this seductive and wholesome dish and its intriguing combination with Oltremé, the pure Susamaniello wine leading the family of Tenute Rubino's most innovative labels. Among the 'crostoni' – crisp slices of rustic bread – offered by Numero Primo, two have a common denominator: stracciatella. In the first, Burrata serves as the subtle and creamy base for the fiery and crispy capocollo, an authentic Apulian specialty. The second, however, offers an unexpected twist thanks to the combination of anchovies, courgette flowers and capers, a lively and unforgettable contrast of sweetness and pungency.  Oltremé is the perfect wine to enjoy with this dish, thanks to the balancing act of red fruit and spicy notes, its harmonious and enveloping palate.
Nothing here you can't easily replicate in your kitchen: remember to toast the bread well, and in a few minutes you will be magically transported onto one of Salento's most beautiful seafronts. Of course, for the journey to be complete, you must not forget a glass of Oltremè, the wine which holds a special place in the hearts of Luigi and Romina Rubino.
www.vinotecanumeroprimo.it
viale Regina Margherita, 46, 72100 Brindisi
Tel. +39 0831 1795537