International Pairings: Traveling around the world with Tenute Rubino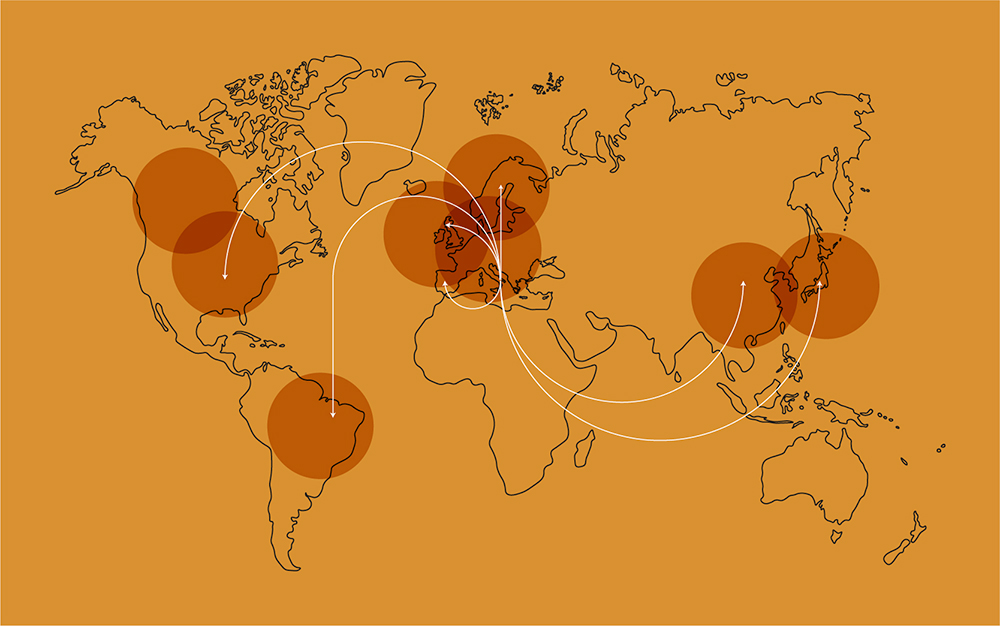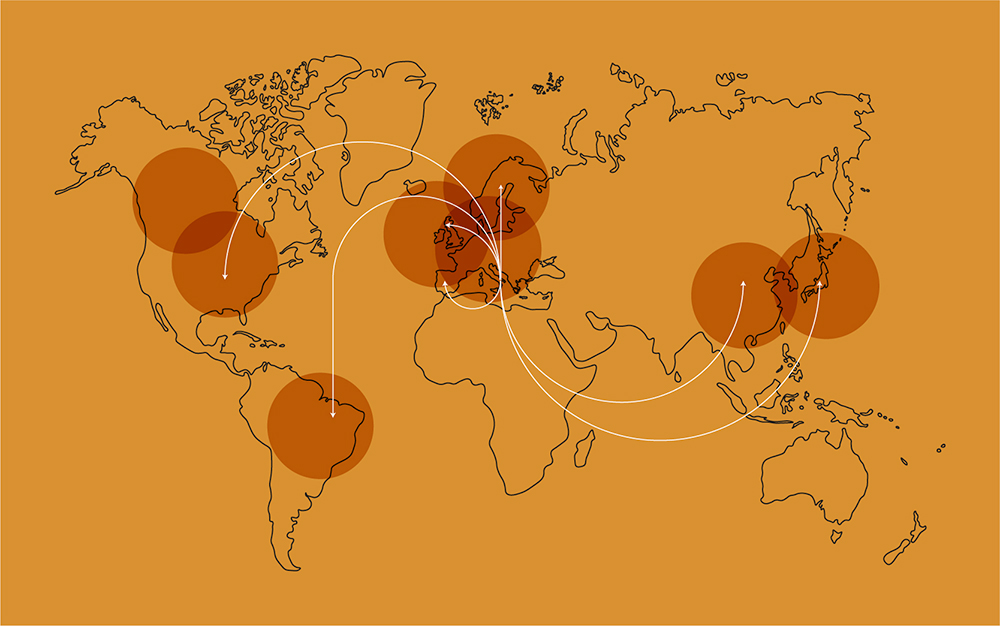 With fun and unusual international pairings, we will take you to the 23 countries where the Tenute Rubino brand is present and, acting as a 'tasting guide', we will take you on a journey of discovery to places near and far, stopping off at the many countries where our wines pair in harmony to local gastronomic culture: for years Tentute Rubino has been an 'experience ambassador', taking Apulia to the World and the World to Apulia.
The international tour of our wines, glass by glass, is an experience of discovery which will show us ingredients, preparations, flavours, traditions and dishes from places and cultures so diverse and seemingly world's apart from us, but in reality nothing is really so far away: we are children of the world and all its wonders.
We will guide you through our 'tasting travels', living the emotions of gastronomy without geographical frontiers, pairing in a union without divisions, traditional dishes from diverse gastronomical cultures with our wines made in Salento: come aboard!
Discovering Spanish cuisine
Seafood Paella
Suggested pairing:
Torre Testa Rosato – Susumaniello IGT
The first leg of our journey begins in Spain, a warm, colourful and welcoming country, with rich dishes which mix ingredients from both land and sea.
Paella is an iconic dish from Spanish cooking and culture, an ambassador for Spain in the world and showcases the richness and versatility of Spanish gastronomic culture.
In the seafood version a series of ingredients are used, which together compliment and create a complete range of flavours.
Seafood paella is extremely aromatic with an important sapid note, enriched by a long and persistent finish on the palate.
What can we pair with this Spanish dish's rich flavours?
Tenute Rubino suggests Torre Testa Rosé, Susumaniello vinified in rosé, with a perfect balance of freshness and sapidity, and with a very light tannin, which together make a harmonious pairing experience with the seafood paella.
Drink, laugh, travel!

Discovering Japanese cuisine
Sushi
Suggested pairing:
Saturnino – Negroamaro Brindisi DOC
Our tasting tours take you to Japan where traditional cuisine, healthy and balanced, has been recognised by UNESCO as an intangible cultural World Heritage.
Sushi is a piece of the Orient which has become part of the delicacies offered in many western kitchens, winning over the curious wanting to feel the emotions of a trip abroad by picking up the hashi (chopsticks) and living it to the full through nigiri, maki and gunkan.
Tenute Rubino, who through their wines enjoys taking Apulia to the world, loves to pair sushi with Saturnino.
The negroamaro grapes and the sandy terroir of Tenuta Jaddico have created a rosè with personality and identity: a rosè of the sea!
Enjoyably sapid, sustained by an interesting acidity and with its elegant aromas, it pairs perfectly with the sweeter tendency of the rice and with the marked aromatic fish (cooked and raw), creating a perfect "Nippo-apulian" fusion.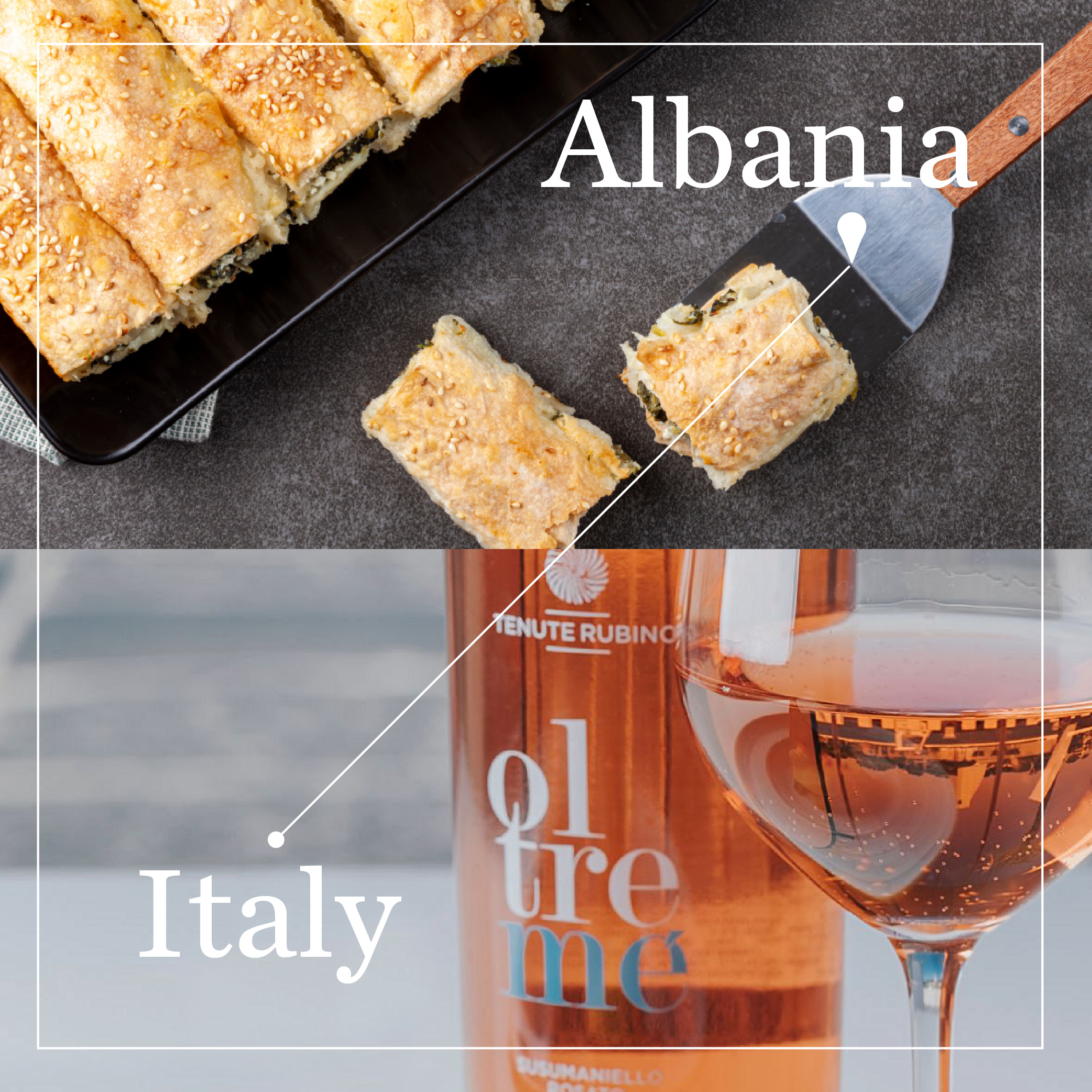 Discovering Albanian cuisine
BYREK
Suggested pairing:
Oltremé rosè – Susumaniello IGT SALENTO
Travelling through Albania, Tenute Rubino wines have joined in many armonious flavour unions with classic dishes from the traditional cooking and a wonderful taste experience has been created between Oltremé Rosé and byrek, one of Albania's most traditional dishes.
It is a savoury filo pastry tart and across the country there are various interpretations of its shape and fillings of every kind, the most common is definitely with a spinach filling.
This pairing expresses two different places which embrace each other in a tasting experience without frontiers.