Jaddico 2016: elegance in a glass
Jaddico is Tenute Rubino's love letter to its most important wine estate. The name is an homage to the area north of Brindisi that is home to a large part of the vineyards. This area, afterall, can boast a thousand-year-old viticultural vocation, and the Jaddico estate was once part of four-thousand-acre Romanfundus, as attested by the numerous archaeological findings unearthed here and in the nearby estate of Marmorelle.
Proximity to the sea and constant ventilation, together with its sandy soils all concur in making this estate the perfect habitat for the growing of native varieties such as Negroamaro and Susumaniello, giving life to a range of wines that fully embody the traditional identity of Salento's viticulture, characterised by a perfect balance of nose and palate. In this particular blend we have a unique wine, full of charm and elegance.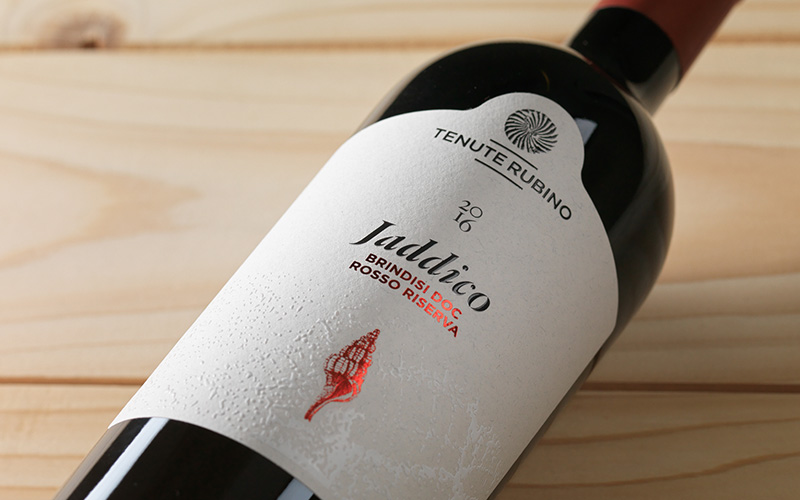 A unique blend of Negroamaro (80%) and Susumaniello (20%)
Negroamaro is without doubt amongst Puglia's, and Salento's in particular, best known native varieties. It has been grown here from as early as the VIII century b.C., when the area was an ancient Greek colony. The name Negroamaro probably derives from two words both used to indicate the colour black: the Latin word Nigraand the ancient Greek Mavros, to emphasize both the intense tint of the grape's skin and of the wine obtained from it.
Susumaniello is the soul of Salento, a traditional variety of the Brindisi area. TenuteRubino has rediscovered this unfairly neglected grape and made it into the heart of its winemaking project. It is grown in the Jaddico Estate, in a 20-hectare single vineyard which offers the perfect dry and well-ventilated microclimate. The closeness of the sea heightens this grape's properties, allowing it to reveal all its versatility in the cellar.
Tasting notes:
the nose offers elegant notes of ripe cherry, blackberry and plum, chocolate, cinnamon and leather, with hints of black pepper, sage and liquorice. The palate is rounded and enveloping, with strong, velvety tannins.
Food pairings:
Jaddico is a wine to sip in front of an open fire or to enjoy at the dinner table with a mushroom and truffle risotto, with a selection of mature cheeses and some typical cold cuts of the Apulian tradition. It is also the perfect accompaniment to meaty main courses and game dishes.