Visellio, Tenute Rubino's primitivo, celebrates 15 harvests
AN EXTRACT OF SALENTO DEDICATED TO GREAT ENTHUSIASTS.
It was the year 2000, and among the vines of Uggio, with its first harvest, Visellio was created, a single-variety Primitivo, intense and powerful.
Today we celebrate the 15 harvests of this wine that time has led to become a renowned expression of Primitivo Salentino in its Brindisi version: the most elegant, more structured and austere. Through the years, Visellio, harvest after harvest, selecting only the best vintages, has written its own story, that of Tenute Rubino's and also Primitivo's, illustrating its characteristics, its potential, its value and prestige: today Primitivo represents one of the most important expressions of Apulian viticulture, and Visellio has proudly contributed to its story, meeting over the years with critical acclaim by both national and international critics.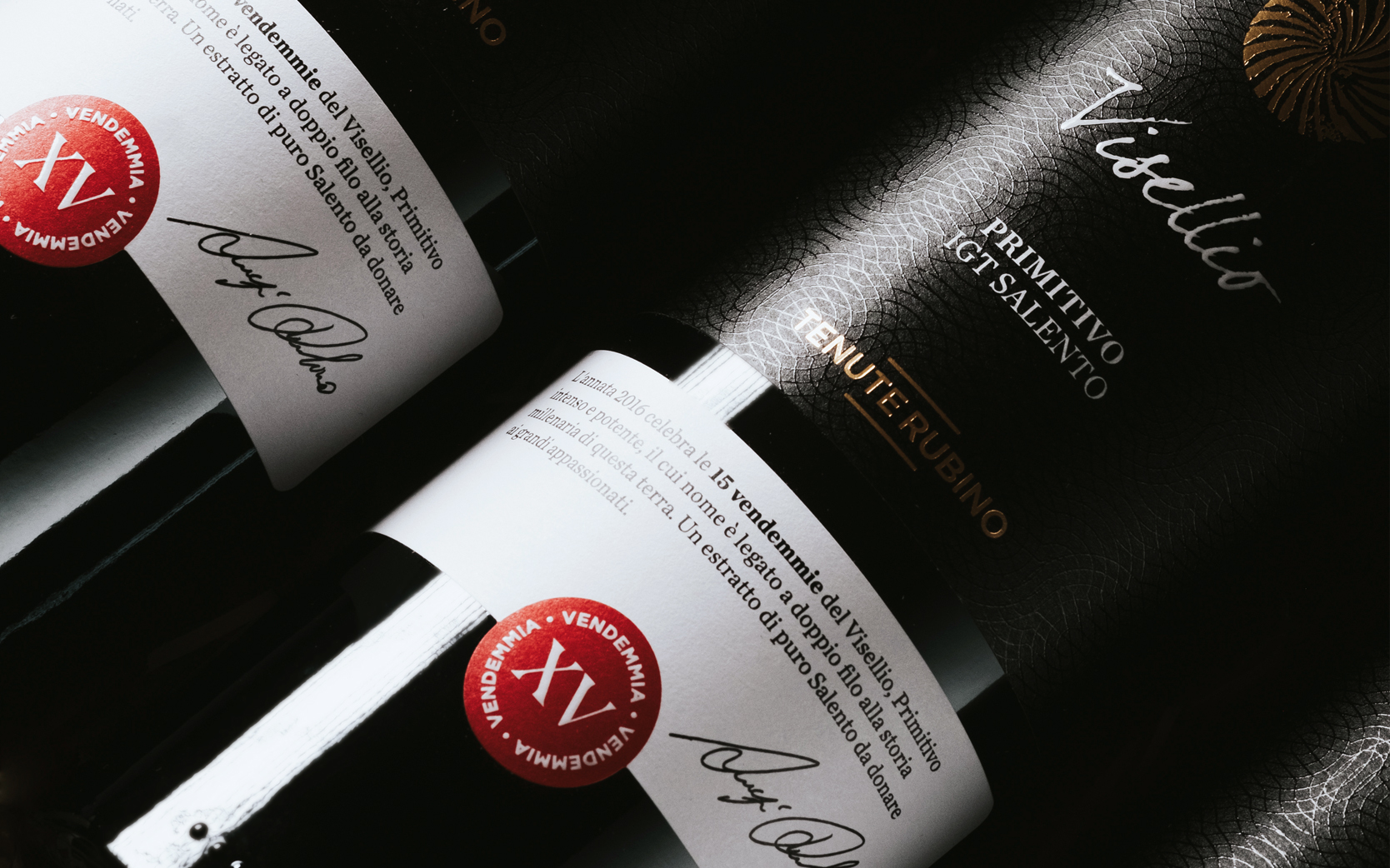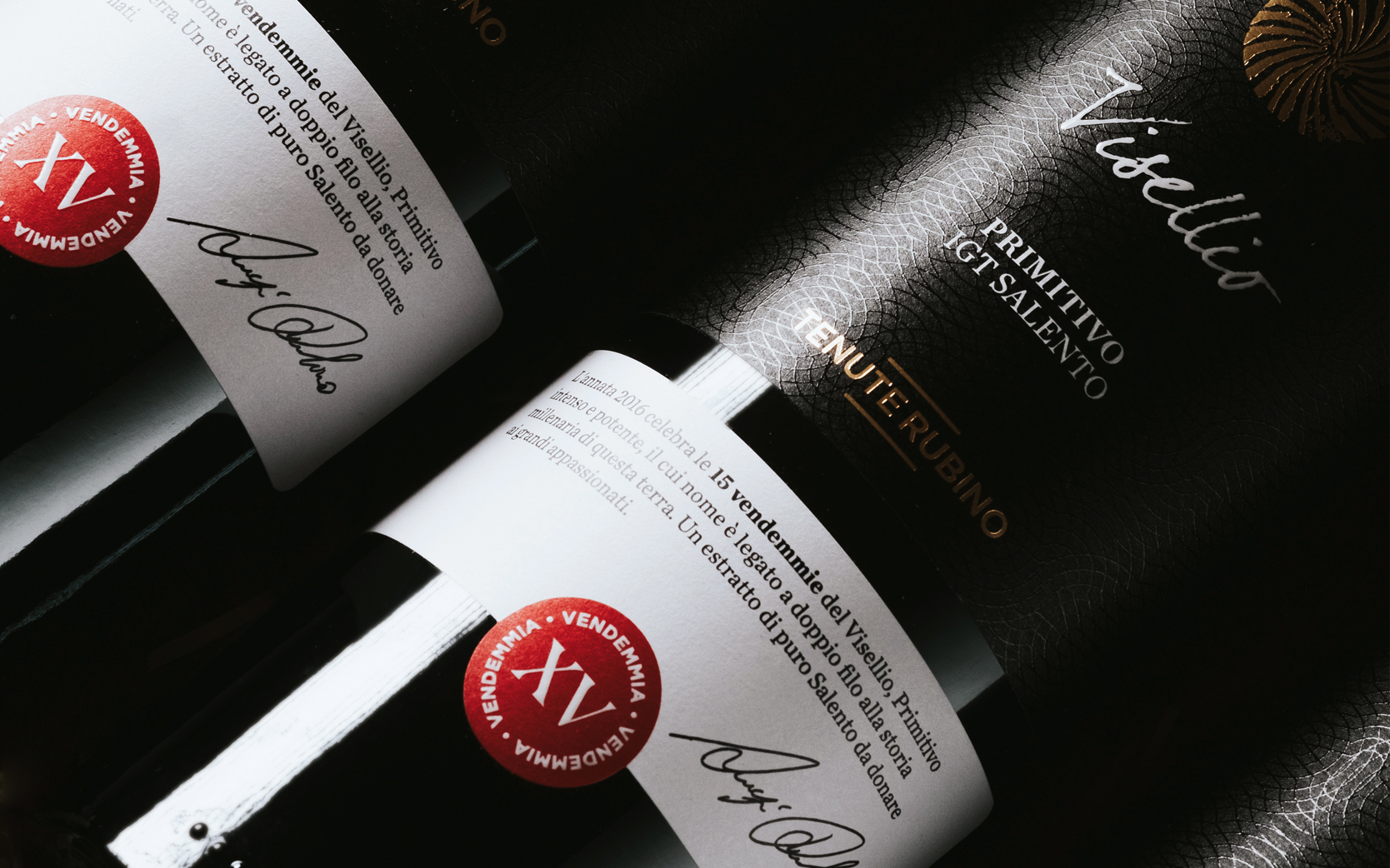 Its name
The name Visellio, has deep roots in the history of the area and its traditions, recalling the name of the ancient owner of the fundus – where today part of Tenute Rubino's vineyards can be found- which during Roman times was the place where large ovens fired the amphoras used to contain and distribute Apulian wine, which was already greatly appreciated along the Mediterranean sea.
The Visellio Estate- Uggìo
The Uggìo vineyards lie on the high plains of Salento, around 80-100 mt above sea level, at around 13 km from the Adriatic coast, in an area near the communes of Brindisi, Mesagne and Cellino San Marco.
The entire area is characterised by loosely compacted yellow sands, a few centimeters down we find clay sand and beyond that a grey-blue clay layer.
Despite the entire area having the same origins and character, there are clear differences on the surface of the soils (topsoils), in relation to the specific location in which they are found.
The Visellio vineyards are found on loam- clay topsoil, with lower percentages of sand and with a structure, that in some peripheral areas of the main foundation, presents limestone formations on the surface.
An important climatic characteristic which adds value to the Uggìo wines is the important temperature excursion between day-time and night-time, which during the summer months can be more than 15°C, creating the ideal microclimate for wines with an aromatic finish that endures over time.
Production method
The grapes which Visellio comes from are harvested by hand in the first decade of September. After a maceration of about 18 days at controlled temperature and the conduct of malolactic fermentation, Visellio is aged for 5-6 months in steel, 8-10 months in new French oak barrels, and then evolves into the bottle for about 12 months.
Characteristics
Visellio is a wine with a bright and impenetrable ruby red. On the nose, it releases an elegant bouquet of perfumes and sensations that are difficult to match, unfold with aromas evoking plums in liqueur, currents and blueberry jam, cloves and nutmeg which alternate with notes of star anise, violets and liquorice. On the palate, it is energetic and captivating at the same time, a seductive and dynamic temperament, powerful yet fresh expression of fruit, finding its balance in the mature and silky tannins and the well calibrated acidity. Visellio is an authentic star, a warm and complex territorial wine, powerful and a warm extractive strength, expansive and celestial, a wonderful example of modern and revisited winemaking founded on firm roots and a solid History.
Tenute Rubino would like to celebrate this wine's story through a commemorative 15 harvests edition, iconic and emblematic, which within it represents the value of a journey of growth and sacrifices, of dedication, passion and love. Every bottle of Visellio is unique, numbered and signed and expresses this long journey made up of lots of steps, one after the other, and the pride of Luigi Rubino who began it 21 years ago.
-> Discover our 15 harvests edition.