Salento According to the salentines
Salende brings to mind a foreign traveller who, upon visiting Salento for the first time, falls in love with the region and chooses it as his home. A monovarietal Vermentino, this grape has found in the countryside of Brindisi a terroir that allows it to express unusual nuances – not unlike a caressing summer breeze, bringing back memories and emotions we had almost forgotten. The wine charms us with its pervading and vibrant energy, akin to the liveliness of the countryside surrounding the Uggìo estate where the grapes are grown, because Salende is what Salento is in the eyes of the Salentines: dynamic, innovative, lively in the colours and sensations it offers.
Expressive and vivacious, endowed with remarkable balance and intensity, Salende stands out thanks to its vigorous touch of sapidity. Seductive, intriguing and complex on the nose, with pleasant notes of elderberry, broom, grapefruit, green apple, almond blossoms, white pepper and flint. On the palate, it confirms all the intensity of its aromatic bouquet, with a charming almond-edged finish, subtle and lingering.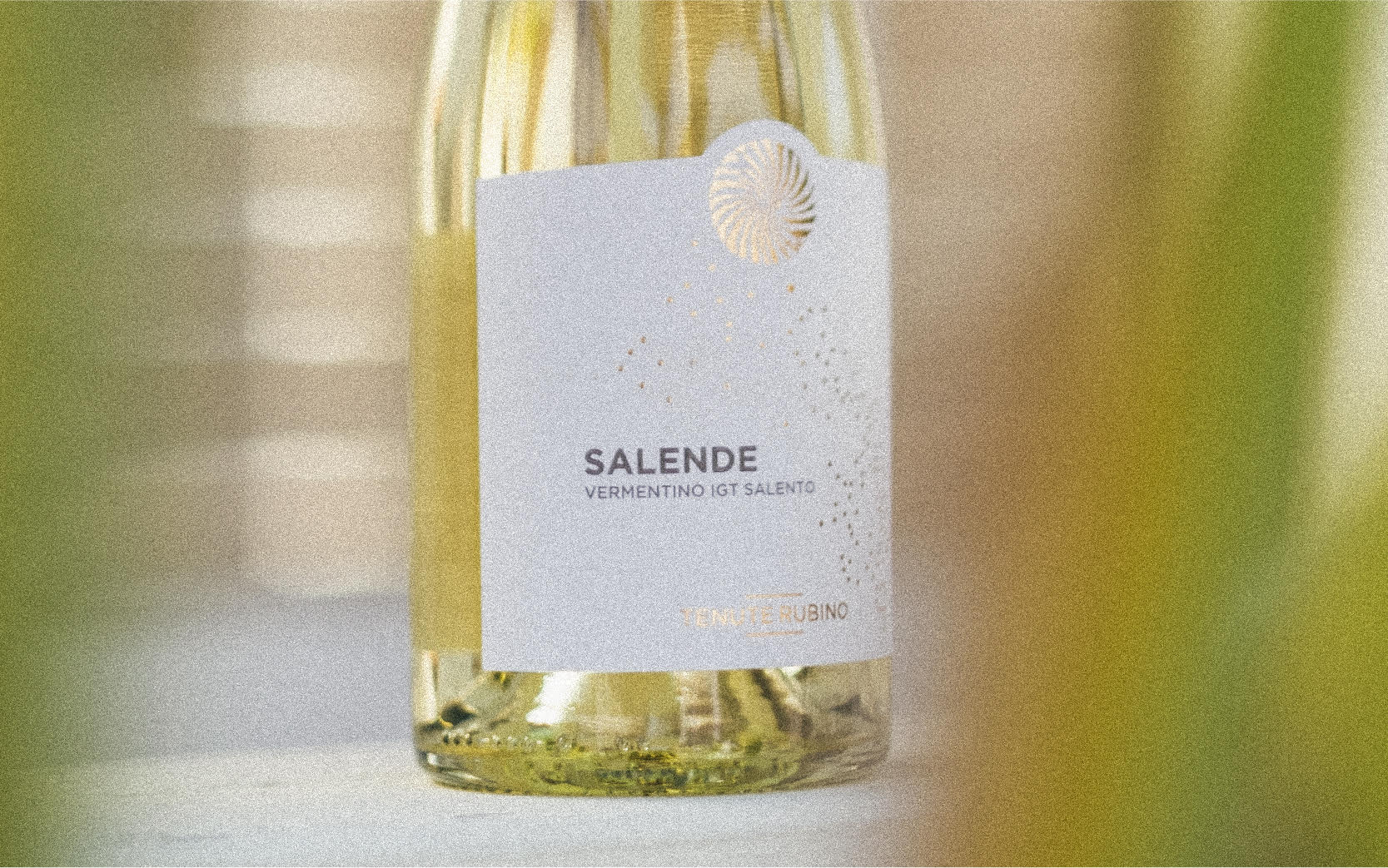 The name
Salende is Salento, in the parlance of the area's native speakers. This is the name used by the locals when referring to their land, a treasure-chest of traditions, flavours and colours like no other. Salende with its zest expresses this kaleidoscope of sensations, reminding us about the importance of roots and identity.
Vermentino
Vermentino is one of Italy's most widely grown white-skinned grape varieties. Regions such as Sardinia and Liguria in particular have traditionally used it in the making of their most appreciated labels. It is also often grown successfully in some areas of Tuscany, Abruzzo and Puglia. Salento is one such area, where Vermentino was adopted as part of an important viticultural effort. Thanks to the area's particular terroir and climate, Vermentino has revealed many new and unique nuances.
The 2019 harvest
The 2019 harvest was delayed due to the past year's unstable climatic trend. A colder and rainier winter compared to previous years led to a tardy vegetative development of the plants in the Uggìo estate and the postponement of the harvest by two weeks. The quality proved excellent from the first round of tastings in the cellar, showing a great aromatic charge, optimal acidity and exceptional freshness. This was largely thanks to the later ripening stage, marked by an ideal climate of mid-range summer averages and favourable diurnal temperature variations which positively influenced the polyphenolic accumulation and development of aromatic precursors. The grapes have thus reached the harvest in excellent condition, perfectly healthy clusters, optimal flesh to skin ratio and a good balance between sugar and acidic content.
Food pairings
Perfect enjoyed with simple yet tasty dishes such as a spicy plate of spaghetti or brazed octopus served over creamed potatoes and a squeeze of lemon. Thanks to the wine's versatility and vibrant sapidity, Salende can also pair well with more structured recipes: try it with red-tuna 'meatballs' or a cod fish tempura.
Serving Temperature: 8-10 °C
Suggested glass: medium, tulip-shaped