Unveiling our new and dazzling Susumaniello
A sunset rendezvous on the seafront of Jaddico, as the sun paints the sky pink and the sea breeze gently whispers through the vines.
It is with this image in mind that we present to you our Torre Testa Rosato 2019, a rosé cru endowed with exceptional freshness, sapidity, persistence and a vibrant Mediterranean personality.  A wine able to express all the authenticity of a terroir made unique by its proximity the sea: Jaddico is, in fact, an estate devoted to maritime viticulture.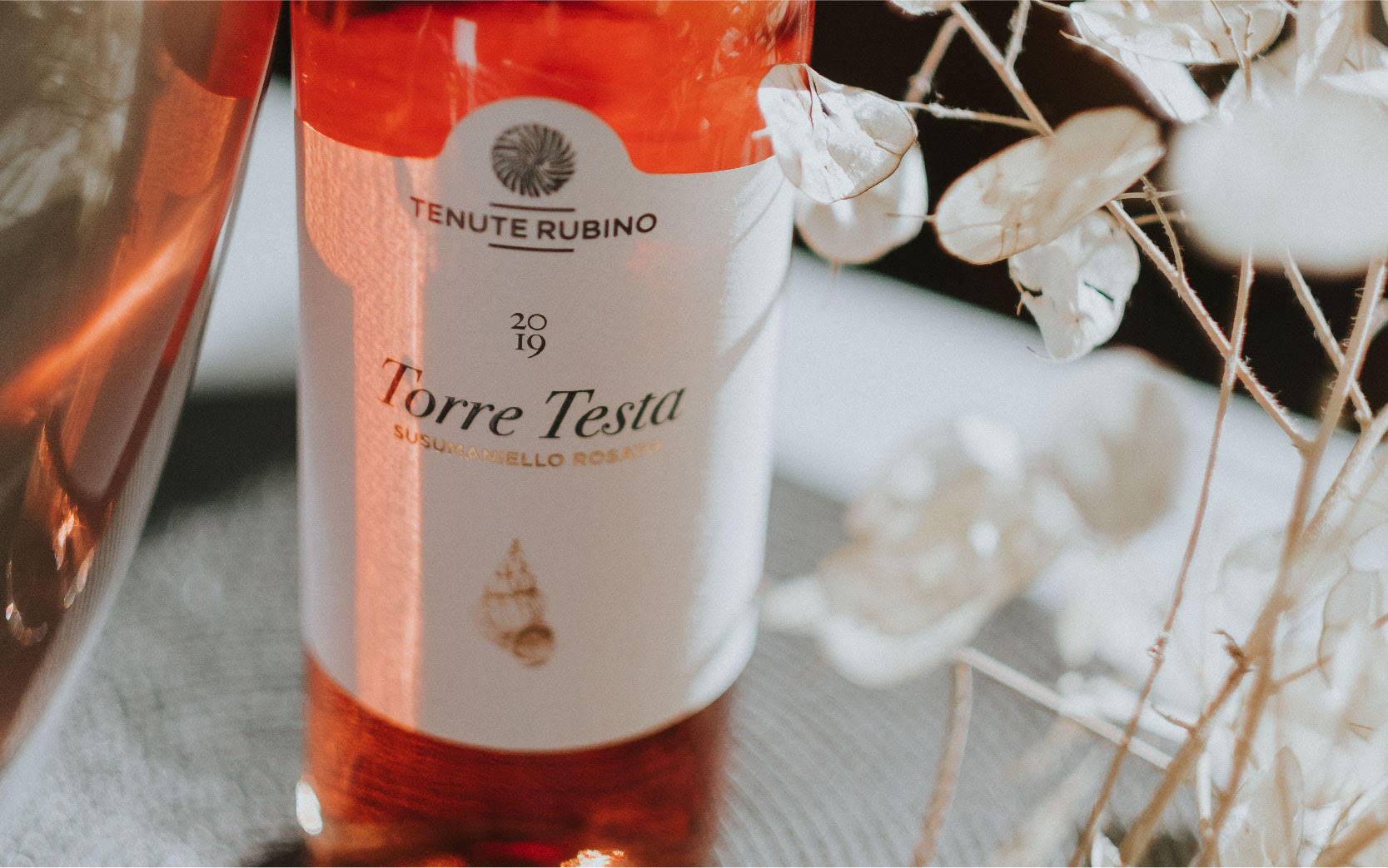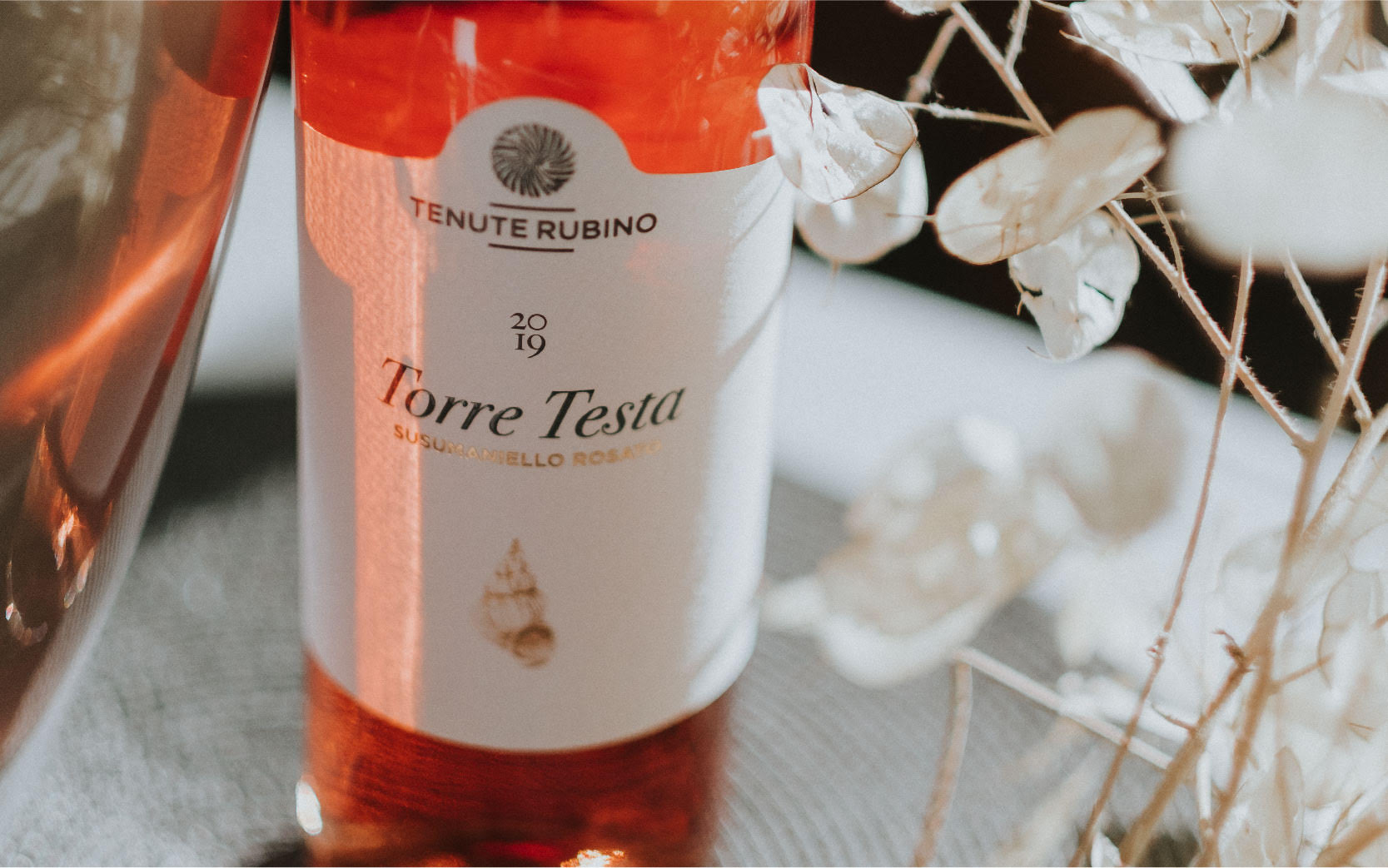 After an aging of 5 months in steel and another 2 in bottle, the latest vintage of this monovarietal Susumaniello has revealed all its grace, shaped by the influence of the Adriatic Sea and a terroir which has been home to a highly evolved millenary civilization of the vine.
Torre Testa Rosato offers a host of dazzling sensations which will make you fall in love after one sip. On the nose, notes of red berry fruit, hints of pomegranate, raspberry and cherry perfectly balanced by an elegant and balanced acidity.
The origin of the name: All along the coastline of Salento we find several medieval watchtowers erected to protect the locals and their land from the assaults of other Mediterranean populations. In Jaddico, one such tower known as Torre Testa del Gallico or the Giancola tower, still stands, named after the nearby channel that flows into the sea and is currently home to an important wetland sanctuary.
Susumaniello, a traditional variety with an eclectic soul
It is in this specific area of Puglia that the heirloom black grape variety Susumaniello has found its ideal home. Tenute Rubino has rescued it from oblivion and placed it at the centre of its viticultural project: Susumaniello is grown in a 13-hectare single vineyard within the 100 hectares of the estate's entire holdings, on the shores of the Adriatic Sea. The proximity to the sea enhances the unique character and versatility of a grape which gives consistently excellent results in the making of classic method, red and rosé wines.
The 2019 harvest
The hand-picking of the grapes began on September 22nd. Average temperatures in the summer have been consistently excellent and the diurnal temperature variations positively influenced the grapes' polyphenolic accumulation and the development of flavour precursors. The grapes were in excellent health, with perfectly intact clusters, a good in terms of flesh / skin ratio and balance between the sugar and acid component: all factors that, from the beginning, prefigured an important vintage.
Food pairings
The fresh and pleasant character of Torre Testa Rosato with its distinctive acidity is an excellent accompaniment to gourmet dishes, especially seafood such as raw tuna tartare as well as octopus, scampi, prawns and squid, but it is also perfect enjoyed with risotto, light roasts and vegetable tempura.
Ideal serving temperature: 8-10 °C
Suggested Glass: medium-sized