The Wine Advocate: Tenute Rubino captures the unique and authentic character of Puglia
A new report from Monica Larner, esteemed contributor to the magazine founded by Robert Parker, enthusiastically celebrates the Cru of Luigi Rubino's company. Varietal typicality and modern viticulture: this combination is the key to success.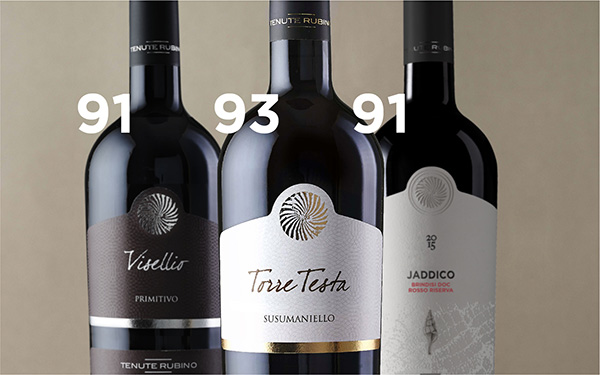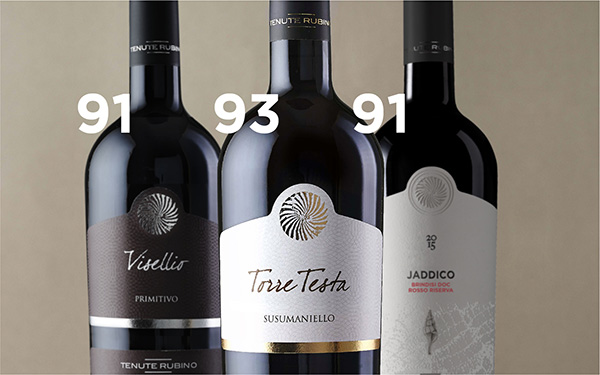 "Puglia is the clicking song of summer cicadas, the pungent smell of red earth and dry hay, the flickering shadows of wispy olive branches and the incandescent light that reflects off whitewashed villages", with this arresting image Monica Larner, wine journalist and Italian reviewer for The Wine Advocate, introduces her survey of Puglia and its excellent wines, each one an expression of the region's strong and genuine character.
The enthusiasm is palpable in every word of the article published in the renowned publication founded by Robert Parker, an opinion leader within the world of international wine journalism, and the enthusiasm is further reflected by the excellent ratings assigned to three of Tenute Rubino's labels, Torre Testa 2016, Jaddico 2015 and Visellio 2016.
"Such high scores – according to Tenute Rubino's marketing and communication director Romina Leopardi – gives us the measure of all we have achieved so far with our work. The company staff and I are thrilled by the ratings assigned to our Cru by an expert of Monica Larner's calibre". Company owner Luigi Rubino adds "we see it as evidence that Tenute Rubino's productive approach of the past years has forged a successful path, we have succeeded in promoting the local products of Puglia and Salento, with a modern viticultural vison that is attentive to the needs expressed by consumers all over the world ".
The 93/100 points awarded by the American journalist to Torre Testa 2016, flagship of the company's Susumaniello project, make it the highest-scoring wine in the entire Apulian territory, a recognition shared with only three other labels. Following its recent inclusion among Italy's 40 best reds selected by Panorama magazine, this new result confirms the position of Torre Testa within Puglia's entire fine wine production system. This is how Monica Larner describes it: "This is Tenute Rubino's flagship wine. The 2016 Susumaniello Torre Testa is beautifully ripe and plump, with thick layers of plum, dried blackberry and a touch of rum cake, all fortified with a 15.5% alcoholic content. Aged in barrique for 11 months, this is a great wine for a winter risotto recipe, with pumpkin and Taleggio. Torre Testa made history in Southern Italy as one of the first internationally recognized expressions of the Susumaniello grape, and you get full-bodied appeal here with lots of ripe, fruity fiber to wrap over the palate".
91/100 is the score awarded to both Jaddico 2015 and Visellio 2016, each described as follows: "A blend of 70% Negroamaro and 30% Susumaniello, the Tenute Rubino 2015 Brindisi Riserva Jaddico offers a solid presentation of bold black fruit aromas. There's plenty of Southern Italian fiber and richness here, and you could pair a wine like this with toasted crostini bread with fegatini pâté. Thanks to 10 months of barrique, this wine also offers pleasant sweet spice and tobacco. This is an authentic Pugliese wine with an international approach".
"This is the most powerful and full-bodied wine among this group of releases from Tenute Rubino. The 2016 Primitivo Visellio is a darkly saturated, powerful and succulent wine. It drives forward with unmistakable momentum thanks to its 15.5% alcoholic content and the sheer texture and fiber of its black fruit. Tobacco, barbecue spice and mesquite make for nice aromatic accents in this faithful friend to steak and potatoes. It ages in barrique for nine months".
Monica Larner also included Torre Testa 2016 in her selection published on March 20th (free to read on the website) by The Wine Advocate, The Decameron: 100 Wines for Quarantine. The wine critic took inspiration from the celebrated work by Giovanni Boccaccio to describe the difficult time currently faced by Italy and the world at large. Her list includes all the recent top-ranking Italian labels – with scores ranging from 92 to 100 points.
"The following is my own Decameron of Italian wine. This list of 100 wines—10 wines for 10 days—is not a classification or a ranking. Rather, it is a compilation of some of the bottles that moved me or otherwise inspired me over the course of the past year or so. And, to pass the time, I will post them to social media as we count by the days". (on Instagram at @monicalarner and o @wine_advocate, or the hashtags #robertparker, #larnerlist and #decameronwines).