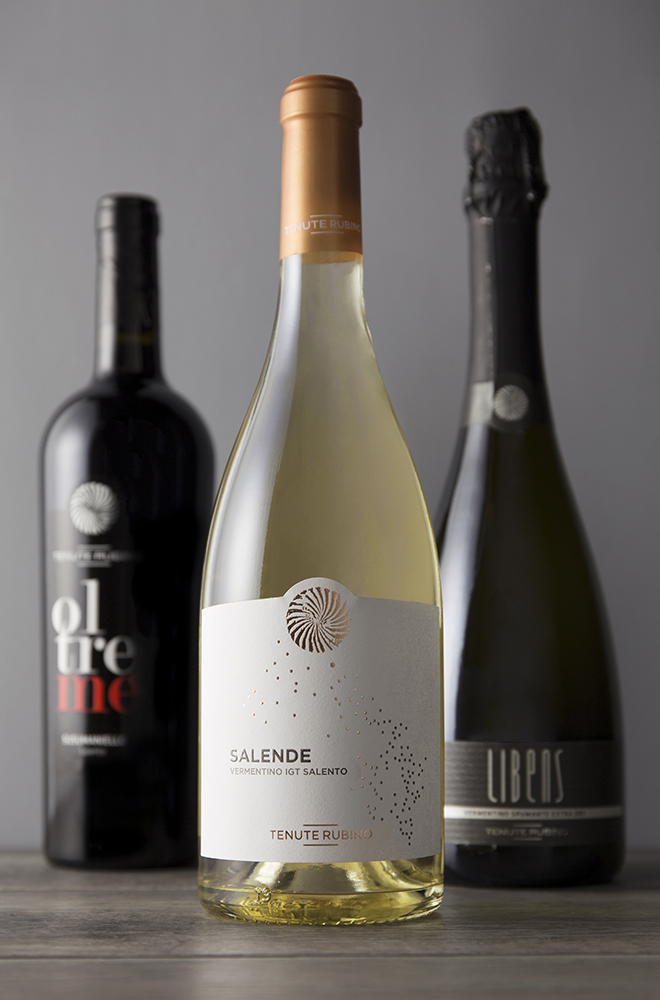 Salende
IGT SALENTO - BRINDISI
Vermentino
Vermentino in purity, Salende has great taste intensity, well balanced through an inviting minerality and a charming almond finish.
Estate characteristics
VINEYARDS LOCATION Uggìo, Brindisi
ALTITUDE OF VINEYARDS 100 m above sea level
SOIL CHARACTERISTICS Stoney medium consistency
TRAINING SYSTEM Spurred cordon
VINES PER HECTARE 6.000
YEARPER IMPIANT 2004
YIELDS PER HECTARE 6 tons
HARVEST Manual, first week of September
Vinification
FERMENTATION Between 16-18°C in steel tanks
MALOLACTIC FERMENTATION Not carried out
AGEING 5-6 months in steel tanks; 3 months in the bottle
ALCOHOL LEVEL 13% vol.
ANALYSIS pH 3,35 · acidità totale 5,50 g/l
VINTAGES 2007, 2008, 2009, 2010, 2011, 2012, 2013, 2014, 2016, 2017, 2018
Tasting
COLOUR Delicate straw yellow, with bright and clear green highlights.
BOUQUET Seductive, intriguing, complex with remarkable hints of elderflower, broom, rapefruit, green apple, almond blossoms, white pepper and flint.
TASTE Well-balanced and intense, with an inviting acidity, good correspondence between nose and taste, fine and persistent.
FOOD MATCHES Perfect with rich dishes of fish, even smoked. Striking with "tagliolini" and lobster, ravioli filled with crayfish with scents of lemon balm and basil and red-tuna "polpette". Perfect with a tasty veal with tuna and mayonnaise sauce.
SERVING TEMPERATURE 8-10 °C
GLASS Tulip-shaped medium size globet